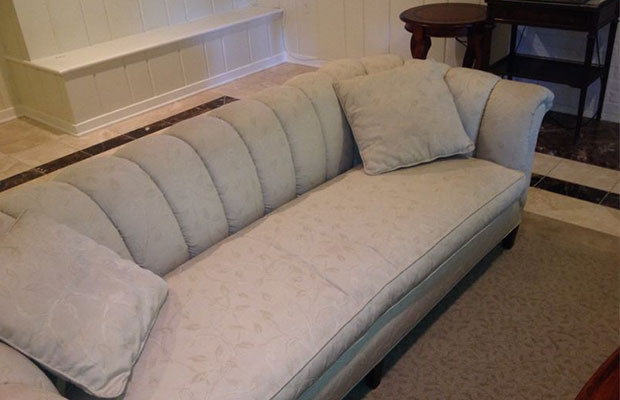 Fabric Sofa Cleaning
The most common material of sofas is fabric, in different compositions - it can be cotton, wool, synthetic or a mixture of two in different percentages. Cleaning your sofa is something you should do at least every month, if not more. Professional upholstery cleaning is recommended at least once every 6 months (or a year, if the sofa isn't used often). The cleaning process will improve the sofa's looks, odor and even its feel. Imagine a clean and fresh sofa, with that fresh scent. Makes you want to snuggle, doesn't it?
Identify the Fabric and Washing Instructions
Furniture comes in lots of different shapes, types and materials, and each requires different process and cleaning materials. Before you start cleaning, or let the cleaning company clean, you should look for a tag on your upholstery, stating exactly what is acceptable cleaning on the specific fabric:
X: You're out of luck, and you can only vacuum the furniture. No water or solvents allowed.
S: Only use Solvent based cleaner on the upholstery (and stick to that recommendation, if you want your upholstery to last)
SW: You're lucky, and it means you can use water or solvent based cleaners on your sofa without being afraid of the results (just make sure the cleaner is not too aggressive).
W: You can use water to clean the sofa. Not sure how? Hot water extraction by professional upholstery cleaners is the right answer.
Prepare for Cleaning
If you booked a professional cleaning, you shouldn't worry as your cleaner will probably do it. If you're doing it yourself, this is important. Using a fabric groomer (or just a dry white washcloth) go over the entire sofa, front back and sides. This will break up some soil and dust absorbed in the fabric, as well as remove some grime if it's still on the surface.
It's also safe to use a brush for this (which is probably what the cleaning technician would use, if he didn't use the groomer).
Clean the Fabric Sofa
If you're cleaning yourself, you should go to google and look for "fabric sofa cleaning at home", but we can't guarantee the results you find there if you try to clean the sofa yourself. We do however guarantee our upholstery cleaning, and we promise we'll clean your sofa to the best state it's been in years (or at least try as best we can to do it).
At this stage we'll use hot water extraction, and clean your sofa deep into the fiber. The hot water will dig deep, and then the machine will extract the water along with most of the contaminants you have in your sofa. If we can, we'll also get rid of any stain you may have on it.
Almost New, at a Fraction of the Cost
Professional upholstery cleaning is your best choice to get your upholstery cleaned right. To prevent damage and save you time (as well as money, looking for a new sofa), call UCM Upholstery Cleaning in Houston. We know upholstery cleaning, and we'd be happy to know you too!